KALE, QUINOA, PINEAPPLE AND BLACK BEAN SALAD
It's Salad Season, Cinco de Mayo and Mother's Day!  Here's a salad mom will love and will keep everyone feeling energetic using our newest light balsamic!
This salad is perfect as a side dish for your next gathering or as an entree on a week night when you want something filling but simple to prepare. Our Southwest Olé Balsamic Vinegar makes it outta control good. Buy a case and send it to everyone you know.
Our friends at Chapparel Gardens on the central coast spent over a year working with spices, their organic fruits and various forms of chocolate to create this perfect blend. The final result combines various chilies, ginger, oregano, cinnamon, cumin and other spices.  It is warm but not spicy hot. 
Because this vinegar is so flavorful, the dressing requires little or no oil depending on your taste - keeping it low calorie.  
Kale, Quinoa, Pineapple and Black Bean Salad
Ingredients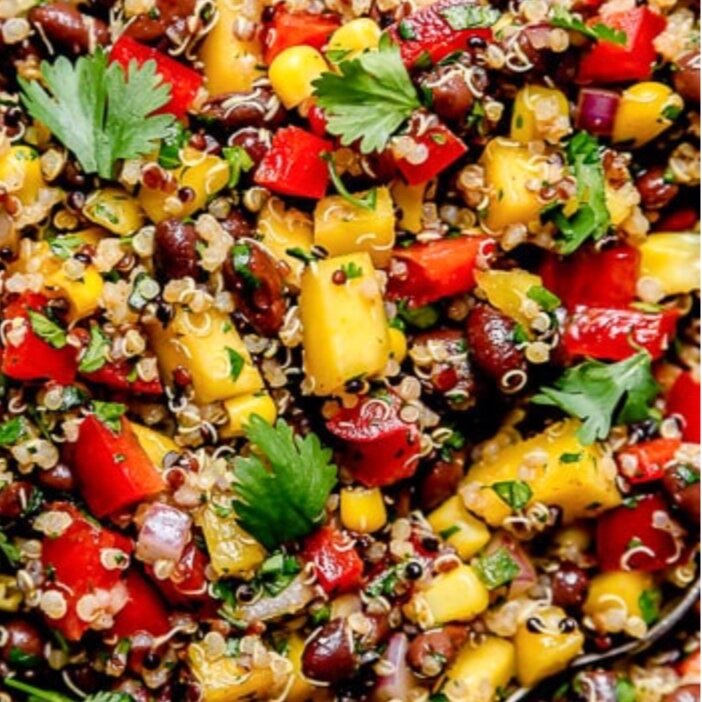 ·      1 bunch chopped black or red kale, about 4 cups   
 ·     1 cup quinoa (cooked per the package instructions)
·       1 cup chopped fresh pineapple (or mango)
·       1 (15 oz.) can organic black beans
·       1 1/2 cups chopped grape tomatoes
·       1/2  cup Southwest Olé Balsamic Vinegar
·       1/3 cup lime juice
·       2 tbsp. Mandarin Orange  olive oil (optional)
·       1 clove garlic – minced 
·       1/4 tsp. salt
·       1/4 tsp. coarse ground pepper
·       chopped cilantro (optional)
1.   Cook the quinoa and set it aside to cool. You can make it a day ahead and store in the refrigerator.
2.   Wash then drain the kale. Chop into bite size portions.  If the center stem is large or pithy, remove it and only use the leaf. Place in salad bowl
3.   Chop tomatoes and pineapple
4. Drain the can of beans. 
5. Blend the lime, salt, pepper, Balsamic and Orange olive oil together (adjust salt and pepper to your taste).
We like tossing the kale first with the dressing and letting it sit for 10 minutes to soften the kale. If you prefer your kale more crunchy, then toss everything together and serve.